Willow Urban Retreat, Melbourne
Willow Urban Retreat is a great place to step away from the hustle and bustle of the everyday without leaving Melbourne. Located in Armadale, they offer an array of holistic therapies including massages, facials, body therapies and more. Their most luxurious package includes a 24-carat facial, an aromatherapy steam shower, a detox body scrub and a signature willow massage – three hours of pure bliss. If you can't step away from the desk that long, their express treatments are for you. Choose from five different options including a 45 minute facial, 45 minute foot and arm therapy, or a head and shoulder massage. Once you're done, head to their cafe for a refuel of acai, smoothies and wholefoods.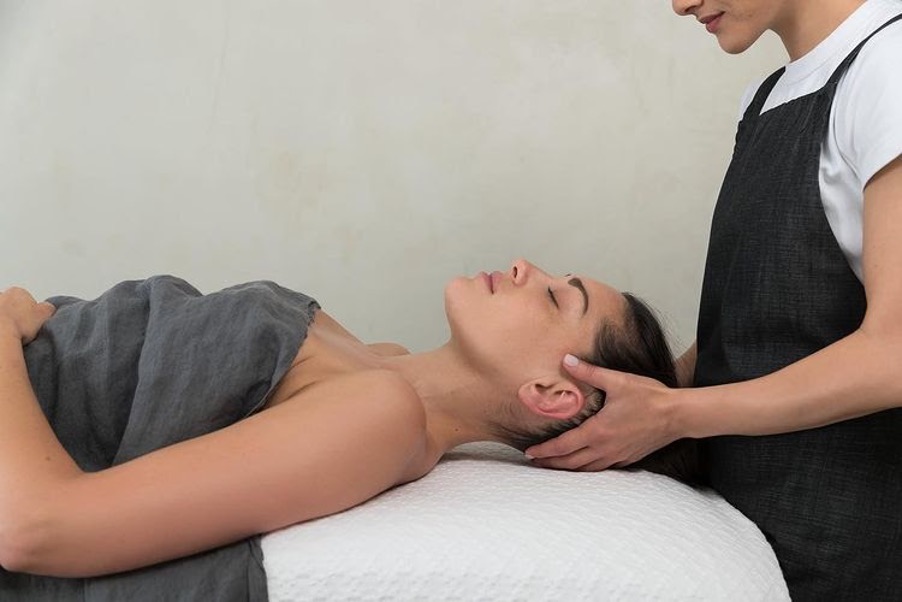 Book via their site, here.
Hepburn Bathhouse and Spa, Regional Victoria
Operating since 1895, Hepburn Bathhouse and Spa offers mineral baths, facials, massages and wellness packages for individuals, couples and friends. Located in the picturesque Hepburn Springs near Daylesford, you can soak up the views of the bush in their pool before heading to your treatment. Using the natural mineral water from the springs, their public Bathing House has two sections - a relaxing mineral bath set at 34 degrees and a spa (jetted) bathing room at 36 degrees.
Hepburn Bathhouse and Spa also has packages for those who are wanting to splash out - try out the Hepburn Royalty Ritual Retreat. This 8.5 hour package involves their award-winning facial, sanctuary mineral bath experience, Moroccan milk bath, remedy massage, hand and feet exfoliating and mineral body wrap. To finish it all off, enjoy the Regional Grazing Lunch and Sweet Treats Platter.
If you're wanting to make a trip out of it, they even have a luxury hotel on site.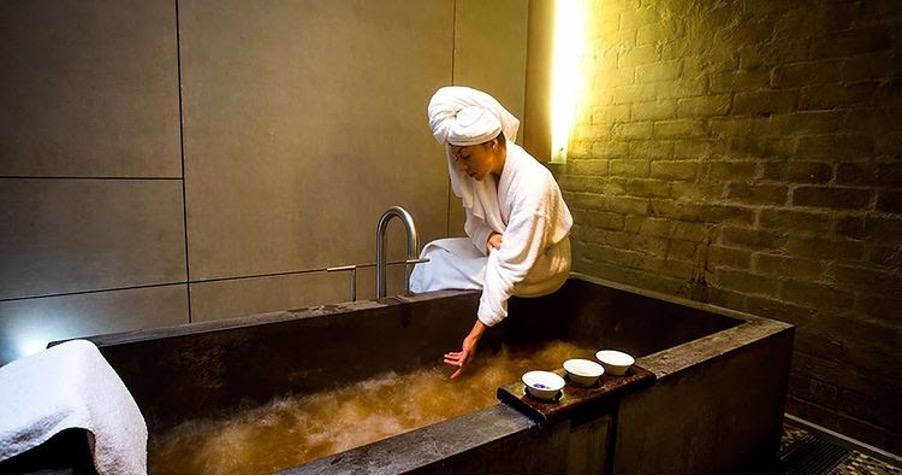 Book here.
Jackalope Spa, Regional Victoria
Jackalope Hotel may be known for its onsite restaurant, Doot Doot Doot and its amazing hotel rooms, but don't forget about their spa. Lap up the luxury with in-room treatments and a dedicated geode spa. One of the highlights here is their 'Wine' treatment - and no, we don't mean a wine tasting - this invigorating scrub involves a full body massage, pinot grape body scrub, rain shower and moisturiser. They also have other treatments on offer including facials, hair and scalp treatments and LED Light Therapy. If you're staying at the hotel, don't forget to book in for one of their DIY Rituals where they can transform your bathroom into your very own private spa. We love their Organic Milk Bath Soak and recommend enjoying a magnesium, rose, milk and lavender bath while you sip on a glass of their house sparkling.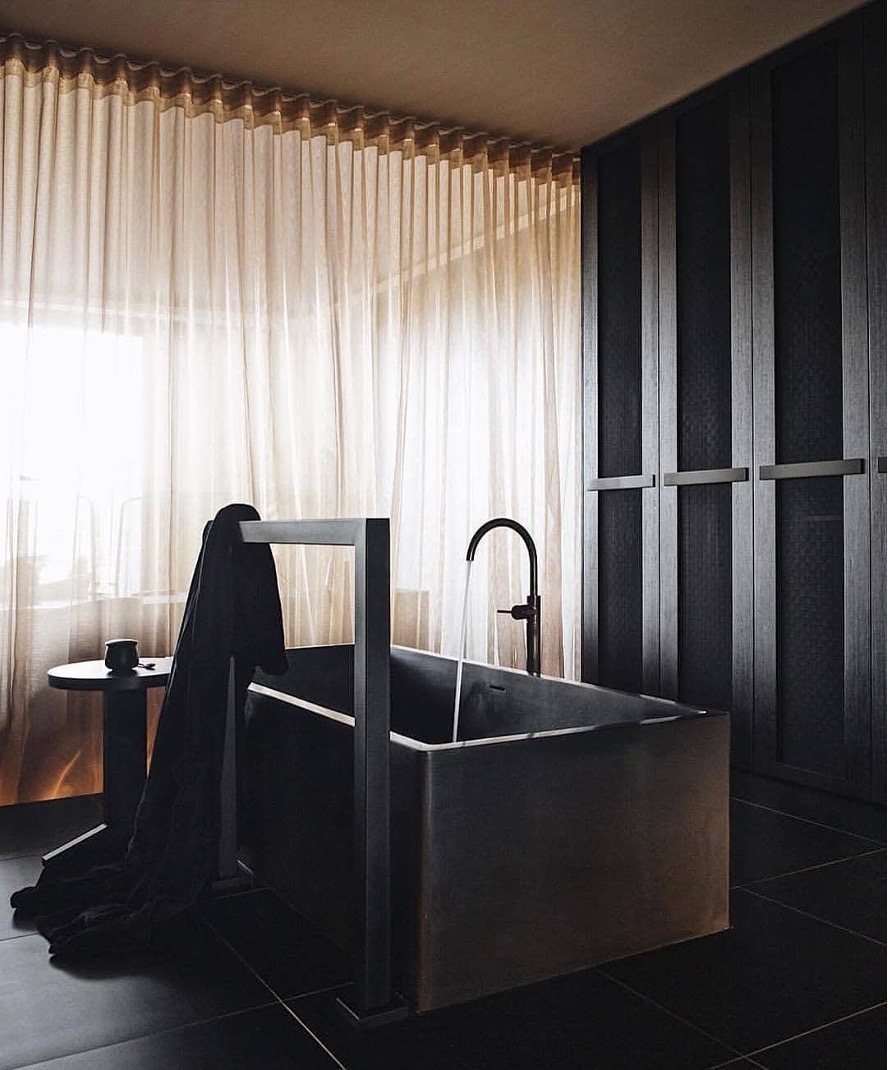 Book here.
The Langham Spa, Sydney
Noted as one of the most instagrammable hotels in Sydney, The Langham really pulls through when it comes to their spa and pool. The Day Spa features their beauty treatments, while the Wellness Centre is home to their hot tubs, steam room and 20-metre indoor heated swimming pool. Located on Kent Street right in the heart of the CBD, it is a great place to get a lunchtime facial (30 minutes) after you've enjoyed lunch in their dining room. The spa itself is underground and decked out with sandstone, with Zen touches and even their own robes. All their facials use German BABOR skincare products, so you'll be glowing when you step back into the real world. Pick from their couples' packages, quick treatments or their all-day spa retreats depending on what you fancy.
To book, head to their website.
Emirates One & Only, Regional NSW
One of the most luxurious stays on offer is Emirates One & Only in Wolgan Valley. Although their spa facilities are only on offer for those who are staying, it is worth it for the expertise, the view and of course the treatments on offer. Wolgan Valley is situated in regional New South Wales and the resort is set up as a wellness retreat - embark on horse riding, yoga and fitness classes during the day, before unwinding in the afternoon at their spa overlooking the NSW hinterland.
Choose from their three main singles treatments (each for different needs, ranging from $130 - $500) or their couples spa package ($950) - no matter what you choose, you'll walk out feeling brand new.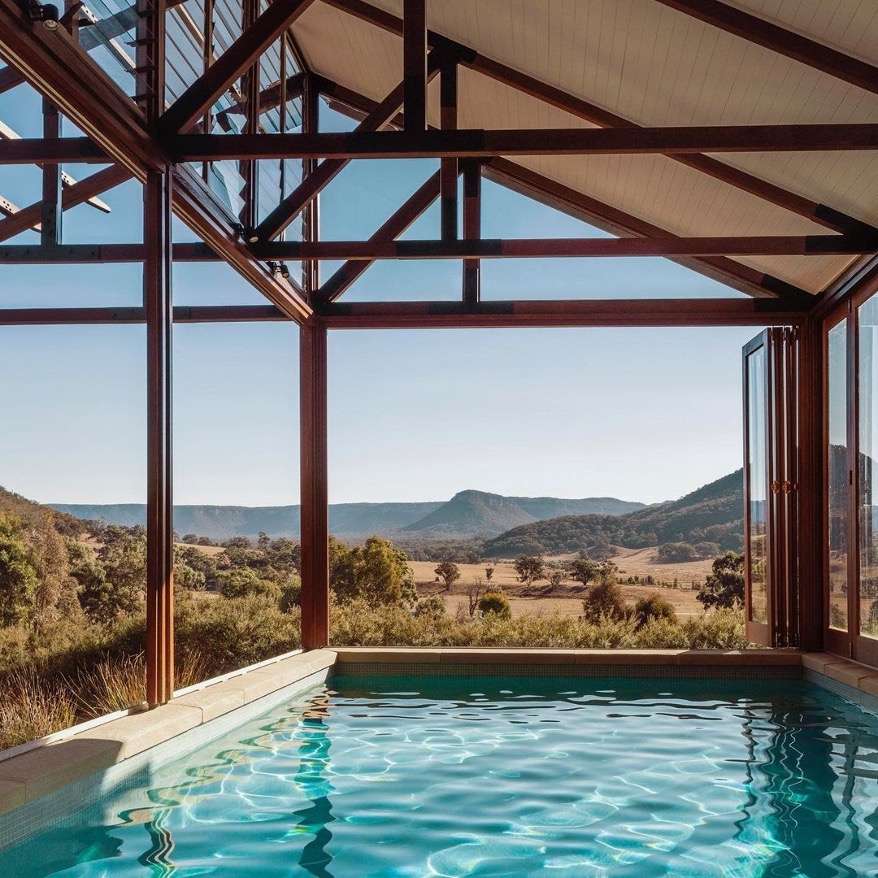 Find out more via their website.
Cradle Mountain Lodge Spa, Tasmania
Nestled among the King Billy pine trees is the Cradle Mountain Lodge Spa, Waldheim Alpine Resort in Tasmania. Set yourself up in your own private sanctuary and soak up the view of the mountains with a dip in their hypodermic thermal pool. Being on top of the mountain is a great way to relax in winter after you've hit the slopes - you can also sip on hot chocolate or a wine while you relax. From body scrubs, couples' treatments, customisable massages and facials, there really is something for everyone (and every budget) at this spa.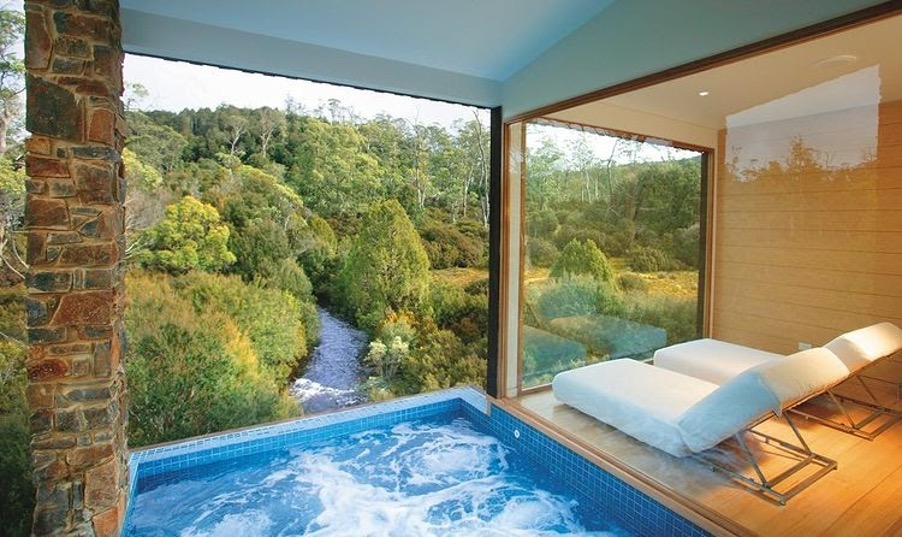 Check out all they have to offer via their website.
Longitude 131, Uluru
With views of Uluru, this is one of the most breathtaking spas that you will ever visit. Set up alongside 16 tent pavilions you get a full view of Uluru while you eat your breakfast. The spa reflects a traditional Aboriginal shelter, and features outdoor rain showers and sitting areas for their guests. The name, 'Kinara' translates to 'moon' in Pitjantjatjara, offering a connection between the country and the sky –also symbolising the shape of the spa. Each of their treatments reference Aboriginal Dreamtime stories, from using Red Clay in their facials, to finger lime in their scrubs - they really embody everything about the red centre. Once you are done at the spa, head to one of their Bush Medicine classes where you can learn about the powerful bush medicine that is used by Aboriginal healers. To find out about everything this spa has to offer, head here.
Qualia, Hamilton Island, QLD
Located on the northernmost part of Hamilton Island and with views of the Great Barrier Reef, this is one spa that you don't want to miss out on. With relaxing views of nature, it is a great way to end a busy day out on the reef. Kick back and indulge in their full Luxury Spa experience which includes four nights' accommodation at Qualia, a Driftaway Sensory Massage, a dinner at the Long Pavilion or Pebble Beach Restaurant, a la carte breakfast and a VIP return transfer from the airport. If you're just wanting to add on to your stay, choose one of their signatures, including massages, facials and more.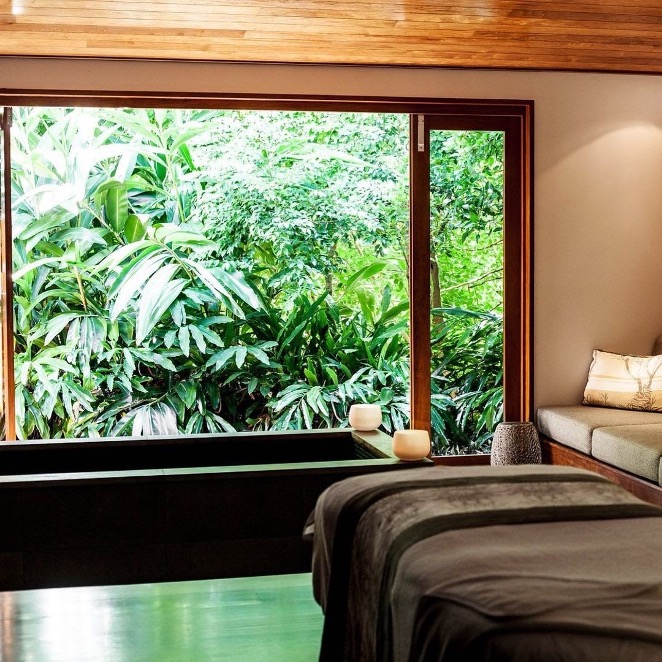 To book, head here.
Lost World Spa, Queensland Hinterland
Be whisked away from your workload at this rainforest-centric space. The Lost World Spa is (literally) centred in O'Reilly's Forest - so leave your phone at home and unwind. Treat yourself to one of their scenic baths with full views of the rainforest after you enjoy your treatment of choice - don't worry, it is fully secluded! If you want a quick escape, purchase a 'Pouch Pass' allowing you access to their infinity pool, steam room and tea station for only $30 (complimentary if you are getting another treatment). If you're wanting to linger a little longer, their five-hour long Lost World Ritual involves an hour-long body soak, steam room, full body exfoliation, scalp treatment, clay body mask, massage, facial and a light lunch.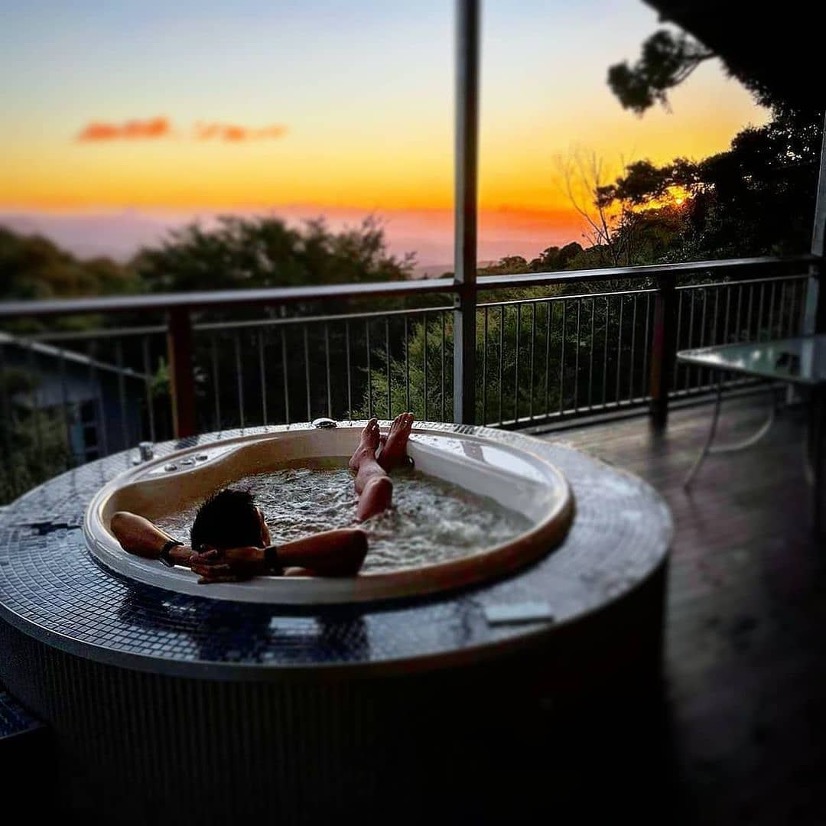 To find out more, head to their website.
Which experience will you be indulging in? Let us know in the comments.