Can you tell us about your background for our readers? Introduce yourself.
I'm Hakim Halim, the owner and Cheesemonger of RIPE, the world's first all-Australian cheese shop located at the Queen Victoria Market. I am originally from Singapore but I have been living in Melbourne for 10 years now. I now consider food (both cooking and dining), traveling and my cats as some of my favourite things in the world.
What is the best gift you've received? What do you think is the best gift you've given?
It was a surprise gift. I had mentioned in passing that I needed a travel bag before my trip to Europe. A week later, a large box from Gucci appeared and it was a beautiful travel bag that I got to use during my European trip.
In terms of what I have given, I am so fortunate to be at a stage of my life where I feel very privileged to be able to donate to causes close to my heart - I've raised funds for the bushfire victims and for breast cancer research, which I feel so lucky to be able to do.
What is a way that you try to be generous in your everyday life?
I was raised to be generous with food, so I cook almost everyday, and have my friends over at my house for dinner parties. I try to give back with the act of feeding those I love.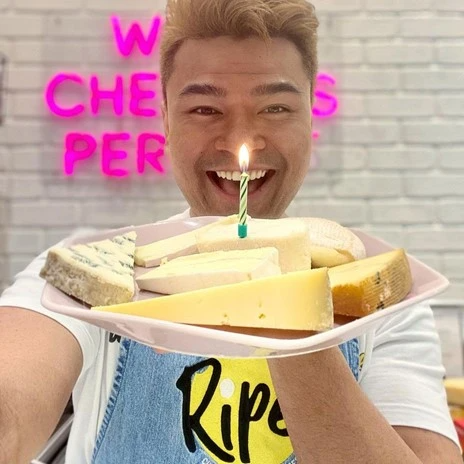 What is the best gift of advice that you have received? This could be a story connected to your childhood or something that you tell others.
This sounds cliche, but my mum's advice to me really stands out. She taught me to love myself and my own company because we should never depend on others to do that for us. It took me about 20 years to really understand that advice and actually heed it, and it is something that I live by every day.
If someone could give you any gift in the world, what would it be?
This is just wishful thinking, but I'd like to be gifted with a cure for cancer so my mum can be cured of her stage 4 cancer. Having just lost my granny and not being able to visit her due to Covid, I'm not prepared to lose my mum just yet.


Finally, what is something you hope to be able to do this year around the gift of giving?
Back when I was a financially struggling student, an education organisation back in Singapore gifted me a scholarship that covered part of my uni fees. I'd like to give back to a student in a similar situation by contributing to the scholarship fund.


Thank you so much Hakim for chatting to us. You can find more about all the deliciousness over at Ripe Cheese, via their website, or via social media.